By Matthew Santamaria (msantamaria@hdsa.org)
In 2021, Kentucky resident Kala Booth spoke to the House Committee on Energy and Commerce about her Huntington's disease (HD) journey with the focus on neurodegenerative diseases. According to Kala, she has four known generations of HD, but only two people have been tested.
"I am here to help fix a broken system," said Kala Booth. "I am a patient; I am a caregiver and more important I am a voice. Today I am a voice for those HD families who do not have one. I was tired of living in fear and after the battles my family had faced. I decided it was time for me to help make a change."
HD is a fatal genetic disorder that causes the progressive breakdown of nerve cells in the brain. It deteriorates a person's physical and mental abilities during their prime working years and has no cure.
She recalls her grandfather developing angry outbursts. According to Kala, her grandfather, on her mother's side, was a father figure to her own dad and served in the military.
His behavior was not normal for the family to see. On Christmas Day, there was one year where Kala and her relatives were not allowed in the house. They were left in the garage with a phone in case to call the police.
"I didn't understand what was happening," said Kala. "I thought it was just him. At that time, most people didn't understand what was happening to him."
Her family would take him to a clinic in Chicago where they finally received answers. Her grandfather tested positive for HD.
"Even though I had a name for what was happening to him, I still didn't understand HD," said Kala. He would later pass away in a nursing home.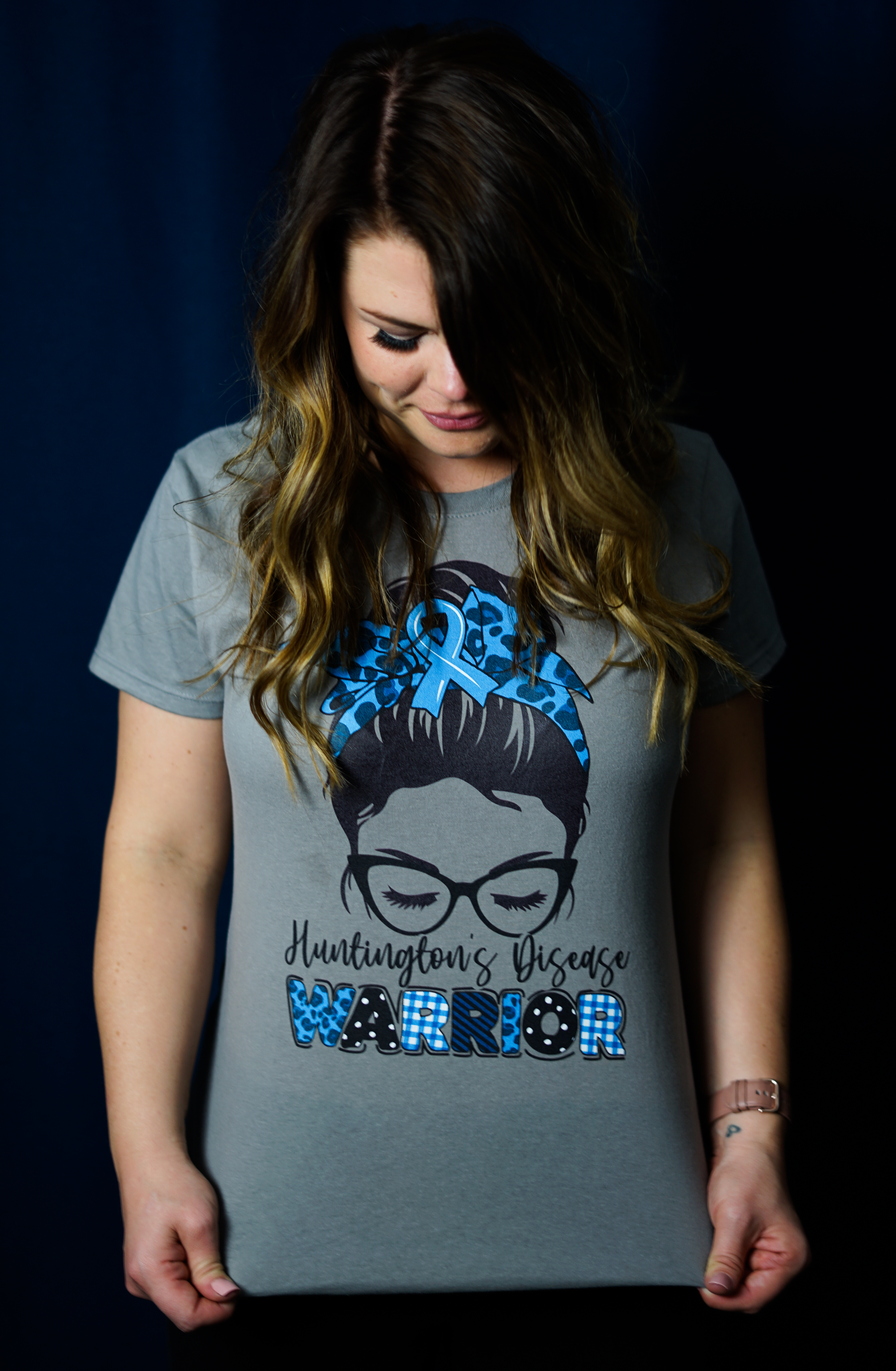 The symptoms of HD are described as having ALS, Parkinson's and Alzheimer's – simultaneously. Symptoms include personality changes, mood swings, depression, forgetfulness, impaired judgment, unsteady gait, involuntary movements, slurred speech, difficulty in swallowing, and significant weight loss.
The daughter of a veteran, Kala spent her youth moving around the US following her father's military postings. However, the HD battle was not over for the family. Every child of a parent with HD has a 50/50 chance of inheriting the faulty gene. Kala's mother and aunt were at risk.
"My mom and aunt decided they didn't want to know if they had it," Kala explains. "They wanted to live life and not live under a dark cloud. I would watch my mom year after year looking for signs."
According to Kala, her mother was a top real estate agent in the county when she started to develop more symptoms related to HD as Kala helped take care of her. This included twitches, involuntary movements as well as tripping. She started to miss her doctor appointments and developed more of the mental symptoms of HD.
For example, she became paranoid as she thought people were switching her medication. According to Kala, her local hospitals were not helpful because they were misinformed about HD. Her mother has now received the right medication, but her symptoms have led her to act more like a child.
"She may have realized she had HD, but she didn't let us know," Kala explains. "I started over analyzing every time I tripped, every time I jerk, every time I dropped something. I'm a need to know right now, rip the band aid off girl. I like having a plan of attack and was starting to make decisions because of fear."
It would take more than two years for her mother to have disability benefits. Applying for disability benefits is a necessity for most HD families, but the disability process is often complicated and overwhelming, whether it is Social Security disability or private disability. Without passage of the HD Parity Act, patients with HD will continue to suffer the mandated 2-year waiting period for Medicare benefits after qualifying for Social Security Disability Insurance.
"Social Security disability is an overwhelming and complex process," said Allison Bartlett, HDSA's Manager of Disability Programs. "Often, people wait to apply for desperately needed Social Security disability benefits because of the stress of the process and the fear of denial. Almost every individual who is diagnosed with HD will need Social Security disability so it is essential that we make this process as straightforward as possible."
By a certain point, Kala needed to have a reset. She decided to take a service trip with her job, Veterans United Home Loans, to Jamaica. This includes building houses as well as communicate with people in the community.
"I thought I was being selfish going," said Kala. "I needed a moment to reset my soul. I was going to face paint the kids in the community, and I would come back feeling better."
However, she would go to a local infirmary, and this would strike a nerve. She would confess to another coworker about her family story and what follows shows the amount good people that there are in this world.
"I came back to Kentucky and didn't think any more about it," said Kala. "About a month or so later, I got an instant message on my work computer from the same person. He said you have been on my mind since the trip, and I wanted to reach out to let you know if you want the money to get tested it is yours. The Foundation has already approved. Our company has The Veterans United Foundation employees donate 1% of their pay to the Foundation for those in need."
Kala was stunned beyond belief. She tried to give the money back because she felt she did not qualify for this.
"Genetic testing is expensive," Kala explains. "Should I spend the money and it comes back no while I just wasted a couple thousand dollars because I needed to be in control? I called around and found a place that would do genetic testing in a sealed file. I didn't want insurance to know. I also decided that I was going to do this on my own without my mom knowing. I could keep the secret, carry the burden."
She would get tested at
University of Louisville Disorders Clinic
. This is one of the 54 HDSA Centers of Excellence that provide an elite team approach to HD care and research. Professionals have extensive experience working with families affected by HD and work together to provide families the best HD care program.
The decision to get genetically tested is difficult to make. Each year, 5-10% are tested. It is never the right or wrong decision to be tested. There are people that see no benefit in knowing that they will develop the disease while others want to know in order to make informed choices about their future. It can take up to several weeks to receive your results from the genetic testing center.
"I have always wanted to be tested, I always needed to know, but even now knowing there are days I sometimes question that choice," said Kala.
Her family was by her side when it was revealed that Kala tested positive for HD. According to Kala, this was how her mother found out she had HD. Her brother is now at risk but has decided to not get tested at this time.
"For me it was a relief," Kala explains. "I could live and live without fear. For my family and friends, it was devastating. I asked everyone to take the week to feel their emotions but after that we were moving past it. I didn't want to be the elephant in the room. I didn't want to be the disease. I was going to be different."
She wanted to really live NOW. Kala wants to go on adventures and take every moment in.
"Time became the most precious gift," said Kala. "I believe wholehearted that God had his hands on my story because everything was coming together perfectly."
Because of her diagnosis, Kala has decided to not have children. For Kala, this was an incredibly hard decision as she took part in a two-year contract for a clinical trial.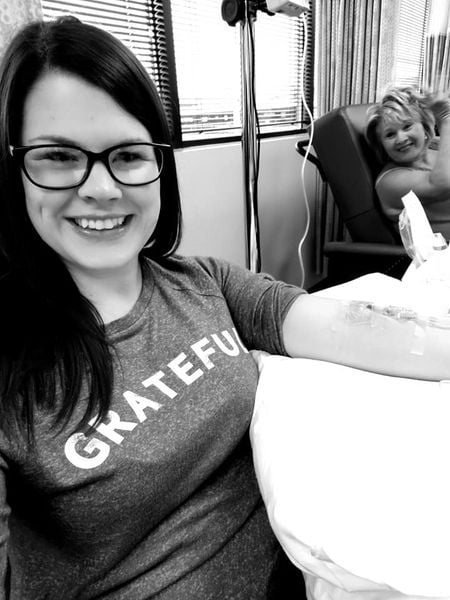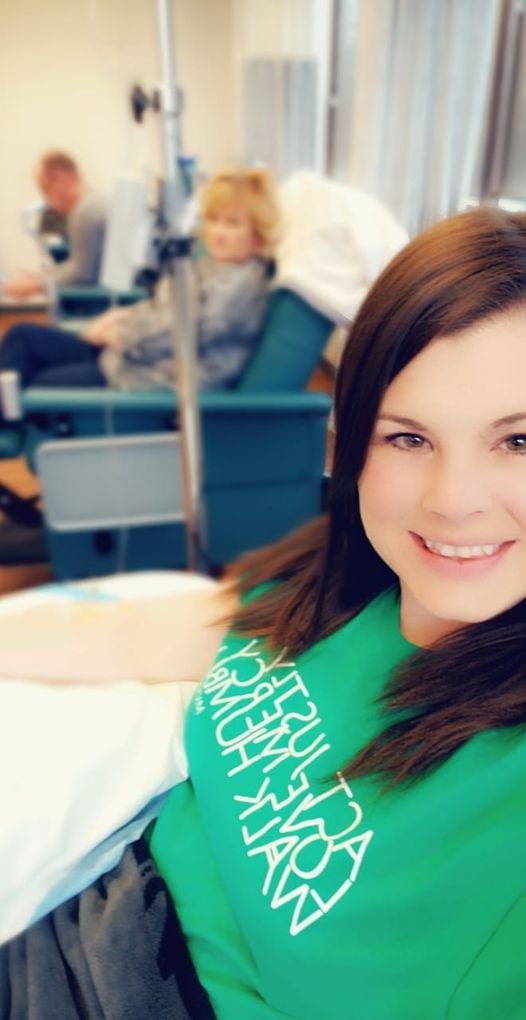 "In my mind, I was helping thousands of families that were dealing with HD," Kala explains. "So even if I received placebo, somebody had to. I was bringing hope where there wasn't. I was bringing hope to my family, past and future and in clinical trials I had found peace. I found my purpose. God knew he had a bigger plan for me than I even realized."
She became known for her shirts as she would wear a different shirt to each appointment to express how she was feeling. She would also update people via social media about the trial to raise more awareness. However, the trial was later discontinued and learned that she took a placebo.
"I am looking for clinical trials and make sure to do my yearly Enroll-HD evaluation for doctors and researchers all over the world can access a database of information," said Kala.
To learn more about participating in an HD trial,
click here
Kala has continued to raise awareness in her local community as apart of HDSA's Kentucky Chapter assisting the local Team Hope Walk.
Kala has a message for the HD Community:

"I want to bring a positive message and take the shame and stigma off. We need to be opened minded and respectful of each others decisions. We need to learn to educate, raise awareness, bring a positive light, and be there to support of others. Loving your story is living your best life and making decisions that are best for you. It is living your truth."
###
Huntington's disease (HD) is a fatal genetic disorder that causes the progressive breakdown of nerve cells in the brain. It deteriorates a person's physical and mental abilities during their prime working years and has no cure. Every child of a parent with HD has a 50/50 chance of inheriting the faulty gene. Today, there are approximately 41,000 symptomatic Americans and more than 200,000 at-risk of inheriting the disease. The symptoms of HD are described as having ALS, Parkinson's and Alzheimer's – simultaneously.
The Huntington's Disease Society of America is the premier nonprofit organization dedicated to improving the lives of everyone affected by HD. From community services and education to advocacy and research, HDSA is the world's leader in providing help for today and hope for tomorrow for people with HD and their families.
HDSA was founded in 1967 by Marjorie Guthrie, the wife of legendary folk singer Woody Guthrie. Woody died from HD complications when he was only 55 years old, but the Guthrie family legacy lives on at HDSA to this day.
To learn more about Huntington's disease and the work of the Huntington's Disease Society of America, visit www.HDSA.org or call 1(800)345-HDSA.
​
This is a story featuring a personal experience with Huntington's disease. If you would like to have your story told please contact Matthew Santamaria at msantamaria@hdsa.org